7 days, 13 destinations | A Week in Tokyo, Japan
7 days, 13 destinations | A week in Tokyo Japan. How to get the best out of a 7-day Tokyo trip from someone who actually did it.
Whether I'm planning my daily schedule or prepping for a weekend getaway, I'm all about planning down to the teeth. I've got multiple written and electronic calendars as well as notifications. With only a week of travel time and a long list of things to do, research and planning is crucial when exploring the busy city of Tokyo. Japan can be very overwhelming, it certainly was for me upon doing some travel research.
With a travelling family of 5 who have the mentality of 'just winging it' that was not an option for me. So please make a note that, this is actually the itinerary of everything I planned and all we managed to do during the week, to know how you can get the most out of your trip.
Airbnb located in Sangenjaya
2 train stops from Shibuya CBD
where to stay
With so many options of where and how to stay when travelling it can often be overwhelming. Especially in a city that is known for its quirky themed hotels. Like the Jurassic Park and capsule hotels, there is a lot of variety to choose from. But with 5 adults, we wanted a place to ourselves with a kitchen.
Let's start off with the Airbnb.
Now while I have used Airbnb before, I must admit this was the first time that I had used it internationally and if I do say so myself, we found a pretty cool place just outside of the Shibuya CBD (which was super easy to get around). It had everything we needed, was clean and had a ton of different shops nearby. (We definitely took advantage of the 7-eleven and made daily trips). I never met the host as this airbnb was accessed through a lock box. But I frequently had contact with the house owner Rintaro who was more than willing to answer all my queries and was super helpful. He even left a bunch of local snacks which we all devoured within minutes of setting foot inside the house.
Day 1 - Arrivial in Japan
Having arrived in Narita Airport and being quite a while away from the Tokyo CBD itself. We bought return tickets for Japan's Narita Express train. Took the Narita Express to Shibuya Station and then an Uber to our Airbnb.
*Hot tip - store your luggage in the locked compartments or on the over head trays while on the Narita Express and remember to keep a low voice. Enjoy the free on board WIFI and enjoy the next hour or so of travel time on your way to the Shibuya.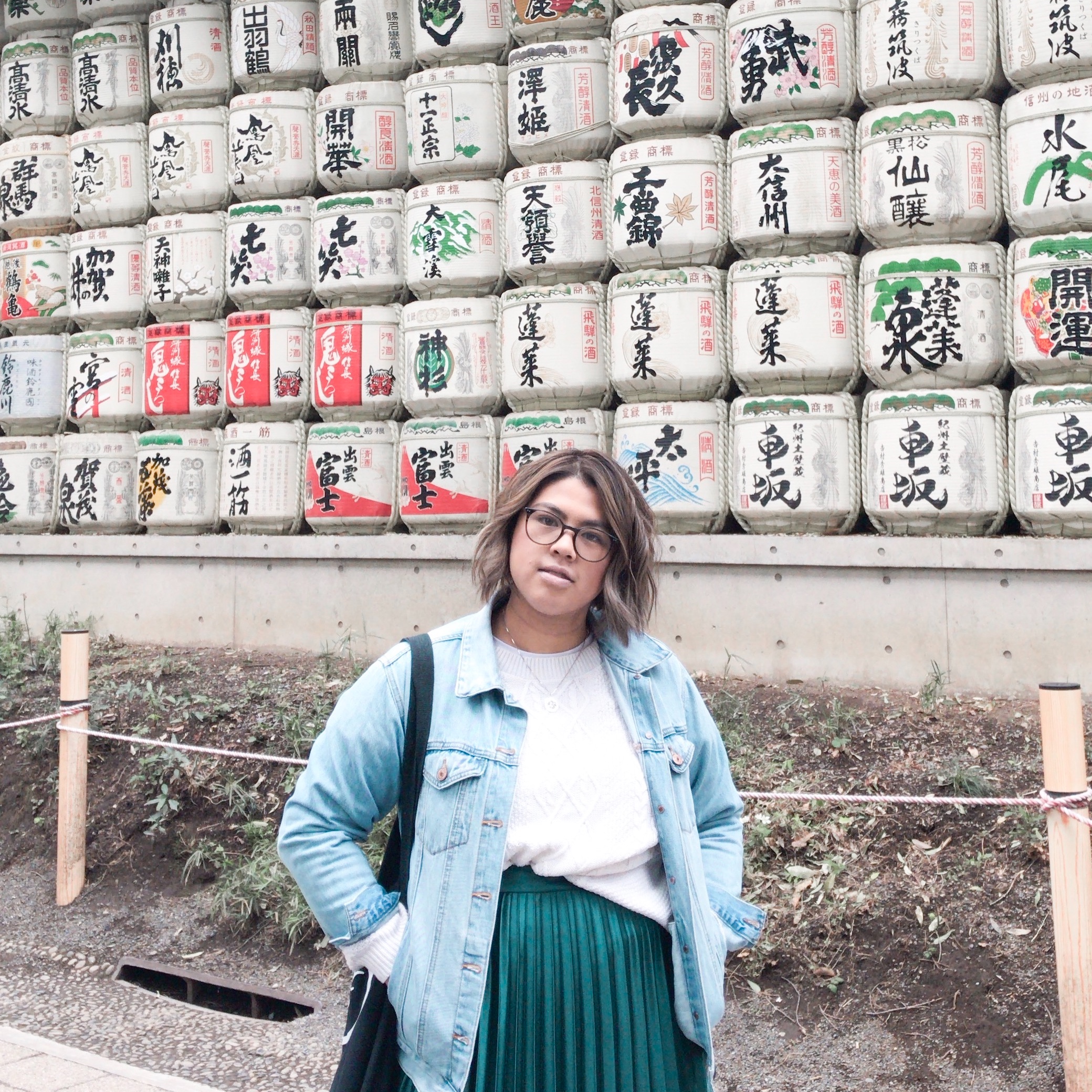 Day 2 - meji jingu, harajuku, chidorigafuchi park, shibuya
Arguably one of my favourite days of the trip. We began by walking around the Meji Jingu shrine and learning about the Shinto religion as well as the fun and quirky streets of Harajuku. I could relate it to vibes of the Newtown/ Surry Hills area. You can find loads of quirky shops from vintage clothings, high brands shoe stores and even well-known European fashion brands. Definitely make sure to also check out Cat Street for loads of food goodies and more shopping.
On our visit to Japan we also really wanted to experience a quirky cafe, so for lunch we opted for the Kawaii Monster Cafe where you can get fun colourful food and drink concoctions. While you may think that they skimp put on the quality of the food, with the presentation, you will be very surprised.
We ended the afternoon in Chidorigafuchi Park, our place to go for admiring cherry blossoms season. Unfortunately, we arrived a week late for the night festival and also missed out on renting a little boat. But with the wind blowing and the petals falling around us it was one of the most magical things I had ever seen. It's a large space too, I would liken it to Sydney's Hyde Park but with water dividing sections of the Park and the Imperial Palace. It's also not a bad place to get lost in.
We ended our first day in the buzzing hub of Shibuya and got lost amongst the crowd when walking the famous Shibuya crossing. Oh boy, it was busy and definitely lived up to its name of being the world's busiest pedestrian crossing.
Day 3 - shinjuku, hakone
Day 3 was a last minute change of plans. As it was the only day that happened to have a definitive weather forecast of bright blue skies and sunny weather. So we quickly hustled and changed plans for Hakone, a good 2hr+ trip away from the Tokyo CBD and the only place we happened to visit outside of Tokyo itself.
We transferred from the Shibuya area to Shinjuku where we had a 2 hour to wait for our train. So we explored the abundance of restaurant filled streets.
Our sudden change in plans really worked in our favour as we rode almost every form of transport. From a train to a tram to a ropeway to a ferry to a bus and back to a train. It was worth the long travel day for the opportunity to see Mount Fuji from every angle.
Hakone was a cute little town and is actually known for its onsens (Japanese hot spring) So if you have a little bit more time. Definitely consider staying for 2 days away from the hustle and bustle of the city.
It also features the famous Hakone Shrine (yes, the one we all most commonly known from the emjio). I knew I had to grab a photo here. I managed to take a snap during every photographers dream time, golden hour. YAY! But I will also have to give my dad a huge shout out for being willing to wait over an hour in line to grab the perfect photo. #worthit
Day 4 - tsukiji fish market, ginza, akihabara
I must admit visiting the Tsukiji fish market isn't something that initially appealed to me, but it was high on the must visit list for my little sister. But, I absolutely loved this part of the trip. It's the best place for sushi and a variety of high quality tuna which can be ordered and cooked in every which way you want. (Something that is hard to come by at home - and is something I am still yet to find here in Sydney). Plus it is the go-to seafood hub and is fresh and made right in front of you.
Next stop for the day was Ginza. If you're on the hunt for designer shopping this is the place to go. But that wasn't what caught my attention. I was more excited to explore the largest UNIQLO in the world. It boasts 12 floors of absolutely every colour style and size of everything type of clothing imaginable and as a lover of graphic tees (with a whole floor dedicated to it), there was far too much for me to only pick one.
We then travelled to Akihabara, another area I didn't know much about at the time. It was something my dad had requested. It is most famously known as the tech district. You'll find things like Sega World, Yobadashi Camera (which is where I spent most of my time and has every electronic imaginable) and later I found out it's known for maid and manga cafes and it's also the place to go for the ultimate gamer. A must see is Super Potato a vintage store that stocks retro 80s and 90s games.

Day 5 & day 6 - tokyo disneyland & tokyo disneysea
Now, despite me being an adult. This part of the trip is what excited me the most, especially having never been to Disneyland.
The castle and the abundance of people colourfully dressed as well as the Disney characters running around truly reminded me that I was in the happiest place on earth. So many people had spoken about how amazing DisneySea was and with it being the only one in the world. How could we not visit. I will admit that I did love Disneyland more but that may also be because we skipped a whole part of DisneySea (the mermaid lagoon from The Little Mermaid aka my favourite Disney Princess). But with so much varieties of amazing food, the opportunity to grab merchandise with all things related to Disney, and an overall happy environment, became a highlight of my young adult life.
*Top top - We purchased 2-day passes online and despite me loosing my ticket on the first day. (Yes, you heard that right. Someone actually returned it at the end of the day. How lucky is that. I mean if that doesn't prove how friendly the Japanese are, I don't know what else will.) There is actually app. So register your ticket in the app so you can have a copy on your phone or print a second copy, because as organised as you think you are about not losing it, you probably will. (Trust me, and learn from my mistakes, it will save you a lot of stress).
Day 7 - harajuku, marikart - tokyo tower >roppongi > shibuya crossing, odaiba
Apart from MariKart this last full day was the only day that was left opened. So we all separated exploring new places as well as places we wanted to revisit. I fell in love with Harajuku and explored Takeshita Street which I didn't get to do on the first day and even grabbed a yummy crepe strawberry crepe.
I then met up with my parents for a go kart city tour. This is one of the only places in the world that does this and I think it's one of the best ways to explore a city. I actually tried booking MariKart for the start of our trip, with the hopes that we would explore the city through kart and know what places to come back as they caught our eye for the rest of the week. But they were quickly booked out. (So make sure you book it in ASAP, they also allow you to pay on the day. Just make sure you have an International Drivers Permit which lasts for a year and can easily get on the spot if you visit an NRMA branch with your drivers license). I still had an amazing time and while my parents were very apprehensive at first they came to the conclusion that it was the most fun adult experience they have had. Of course, dressing up in character onesies and waving to everyone both young and old also made us feel like rockstars!
We ended the day by visiting Odaiba specifically the DiverCity Tokyo Plaza where you'll find a life-sized model of a Gundam robot standing outside of the shopping mall similar to a DFO. It's great for shopping, there are a whole bunch of other shopping locations like Palette Town that has a giant rainbow ferris wheel near by the Venus Fort shopping mall which looks stunningly like Venice. There's a Megaweb Toyota City Showroom where you can see the latest in cars as well as the iconic interactive museum, teamLab Borderless.
Day 8 - saying goodbye to japan
Despite the little time I spent in one part of the country and many people saying how much I would enjoy it. I didn't fully believe it until I experienced it myself and boy did Japan capture my heart. I absolutely loved exploring what I could of Japan and I can't wait to go back and explore more. With Osaka, Kyoto and Hiroshima high on my list of cities to visit next. Japan truly is a place you have to visit for yourself and appreciate how amazingly special it is.
I've also documented the trip on my Instagram with more video and photo content so make sure you check it out!
Let me know in the comments if you have visited Japan? What are your fave things to do, see or eat? Or even if you have any questions about the trip. I'd also love to know whether you are a serial travel planner like me or whether you prefer to just wing it.